Search All Open Positions
Join Us at Allot
Smart
Hod Hasharon , Israel ● Full time
AVP Product Network & Cloud Security
Job Description :
Who we are:
Allot is an established industry leader in network intelligence and security solutions for service providers and enterprises around the world.
We believe in giving our Tier-1 customers around the world real value by offering them cutting-edge solutions that make their networks smarter and their users more secure.
At Allot, you'll have the opportunity to develop professionally and personally in a dynamic environment with like-minded people who always go the extra mile to succeed.
What we're looking for:
An AVP Product Network & Cloud Security who will be responsible for one of the company's strategic cyber-security product lines and have additional managerial responsibilities.
What you'll do:
Driving the product, from long term vision and roadmap to execution
Managing the product lifecycle, version release and related processes
Becoming the product expert and source of knowledge and know-how
Supporting the company's activities aimed at increasing product sales, enablement of presales and marketing
Interacting with the company's customers to increase product adoption and customer satisfaction
Maintaining an updated view of the competitive landscape, as well as the relevant technological trends and developments
Advancing the integration of the product within the company solutions' offering
Acting as Product Owner for multiple R&D teams
Covering both Outbound and Inbound aspects of the PM work
Requirements :
What you should have:
Have 7+ years of previous product management experience from a cybersecurity company
Knowledge of Firewall and DDOS products in the cybersecurity market is a must
Be knowledgeable and experienced in IP networking, communications networks (fixed, mobile) and IT systems
Be knowledgeable and experienced in Analytics/AI/ML technologies and capabilities - a huge advantage
Have experience in design and promotion of Telco-focused solutions - a huge advantage
Have a B.Sc. degree in a relevant technology-related field or equivalent experience; MBA is a plus
Be fully proficient in English and Hebrew, additional languages a plus
Have great communication and presentation skills, be adept at teamwork and owner of the specific product domain
Show all jobs...
CONTACT SALES
Discover the best solutions for your organization
You're all set!
We look forward to meeting with you on Monday, June 28 @ 14:00 EST. The meeting details will be sent to your mail box in a few seconds.
For a deep dive into Allot's SMB solutions, we'd like to offer you a free copy of our position paper
Security for SMBs: Threats and Opportunities on the Rise.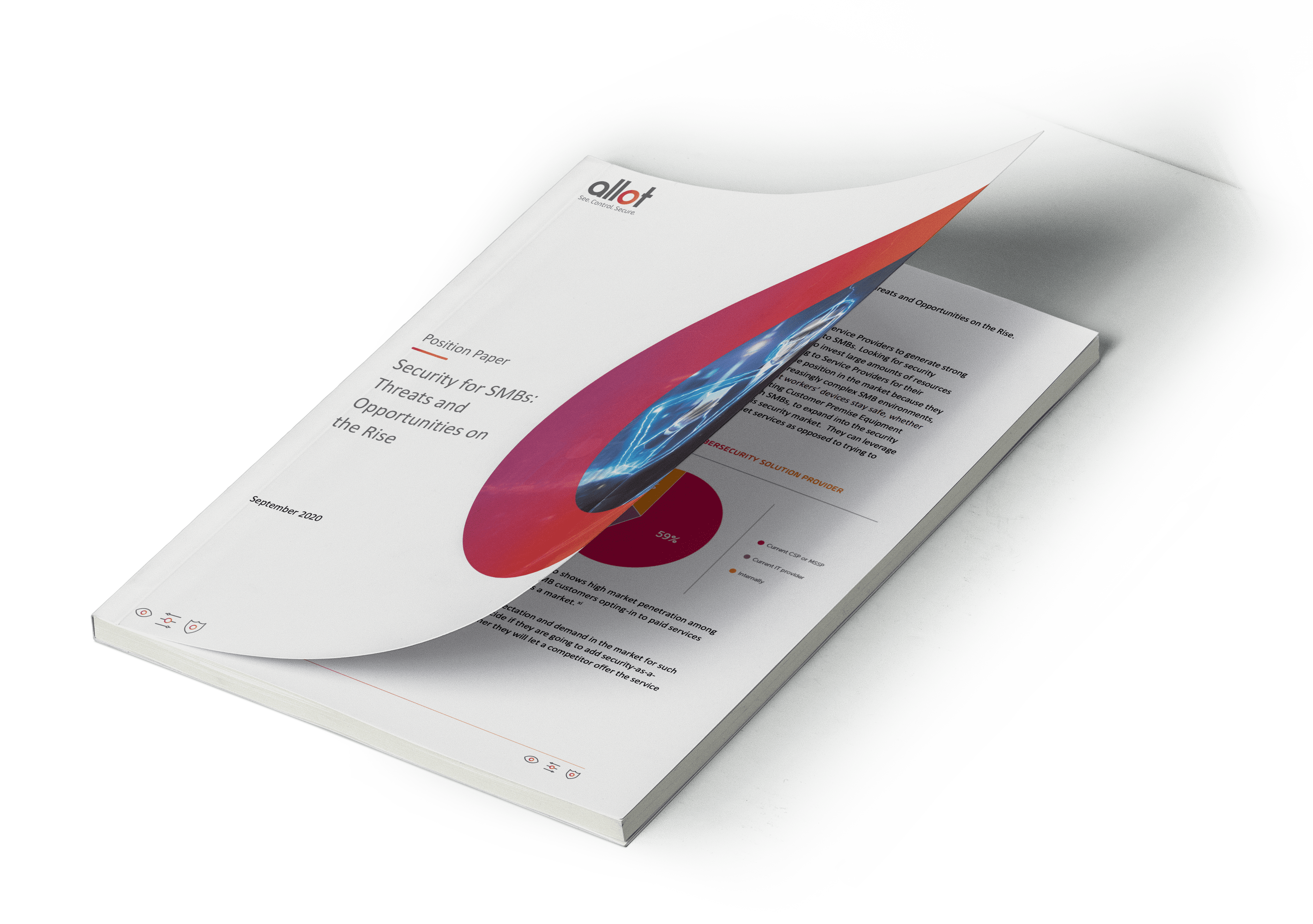 Get your e-book »