Search All Open Positions
Join Us at Allot
Secure
Hod Hasharon , Israel ● Full time
AVP Cybersecurity Data Science
Job Description :
Who we are:
Allot Secure is the Cybersecurity Business Unit at Allot. The portfolio is comprised of network-based security solutions, aimed to protect the mobile end user, both at home and on-the-go. Allot Secure offers a unified solution for the mobile consumer, at a time when security threats to devices have grown exponentially.
As this is a newer, cybersecurity product portfolio, we are defining the strategic direction vis-à-vis the current competitive landscape, our customer needs, and potential partnerships.
The Allot Secure BU has all the advantages of a "startup" within a stable, established company – developing and growing products from scratch, while enjoying the financial security and solid traction with global Tier1 telecommunications operators.
We are currently in a serious growth mode and are looking for people with security expertise to build up the Allot Secure BU. We are looking for outstanding individuals with excellent engineering, intellectual and analytical capabilities, entrepreneurial problem-solving skills, as well as strong communication and influencing capabilities.
What we are looking for:
An AVP Cybersecurity Data Science who will be responsible for building a cyber data science research function, onboarding new relevant data sources, and creating a risk research analysis framework working with the AI/ML team.
The position will report to the SVP of the cybersecurity business unit and will be part of the BU management team.
What you will do:
Build Allot's cybersecurity data strategy
Lead a cyber data science research team
Collaborate with data and software engineers to enable deployment of sciences and technologies that will scale across the company's ecosystem
Be responsible for building analytic systems and predictive models as well as experimenting with new models and techniques
Integrate modeling processes in our products and solutions
Leverage cutting-edge technologies to perform statistical profiling, inference, classification, clustering and predictive analysis.
Translate cyber and network security related requirements into simple or sophisticated models to help derive new insights to defend against cyber-attacks
Develop Allot thought leadership in cyber threat data analysis methodologies, tools in public, private, and hybrid cloud-hosted services
Advise on research in shifting security trends, evolving threats, risks, and vulnerabilities, to recommend adaptive mitigation capabilities
Engage with and influence all organization levels, drive collaboration, and ensure practical strategic priorities are timely addressed
Requirements :
What you should have:
Masters or Ph.D. in Statistics/Computer Science/Engineering/Mathematics
Deep understanding of emerging cyber technology and cyber persistent threat trends, having worked on advanced cyber research and development projects
10 years of experience in data modeling, large datasets aggregation, business context mapping, unstructured data mining, and anomaly detection
Proven experience in leading groups of researchers
Proven background in leading data science activities
Leadership and organizational abilities
Strategic thinking and problem-solving aptitude
Show all jobs...
CONTACT SALES
Discover the best solutions for your organization
You're all set!
We look forward to meeting with you on Monday, June 28 @ 14:00 EST. The meeting details will be sent to your mail box in a few seconds.
For a deep dive into Allot's SMB solutions, we'd like to offer you a free copy of our position paper
Security for SMBs: Threats and Opportunities on the Rise.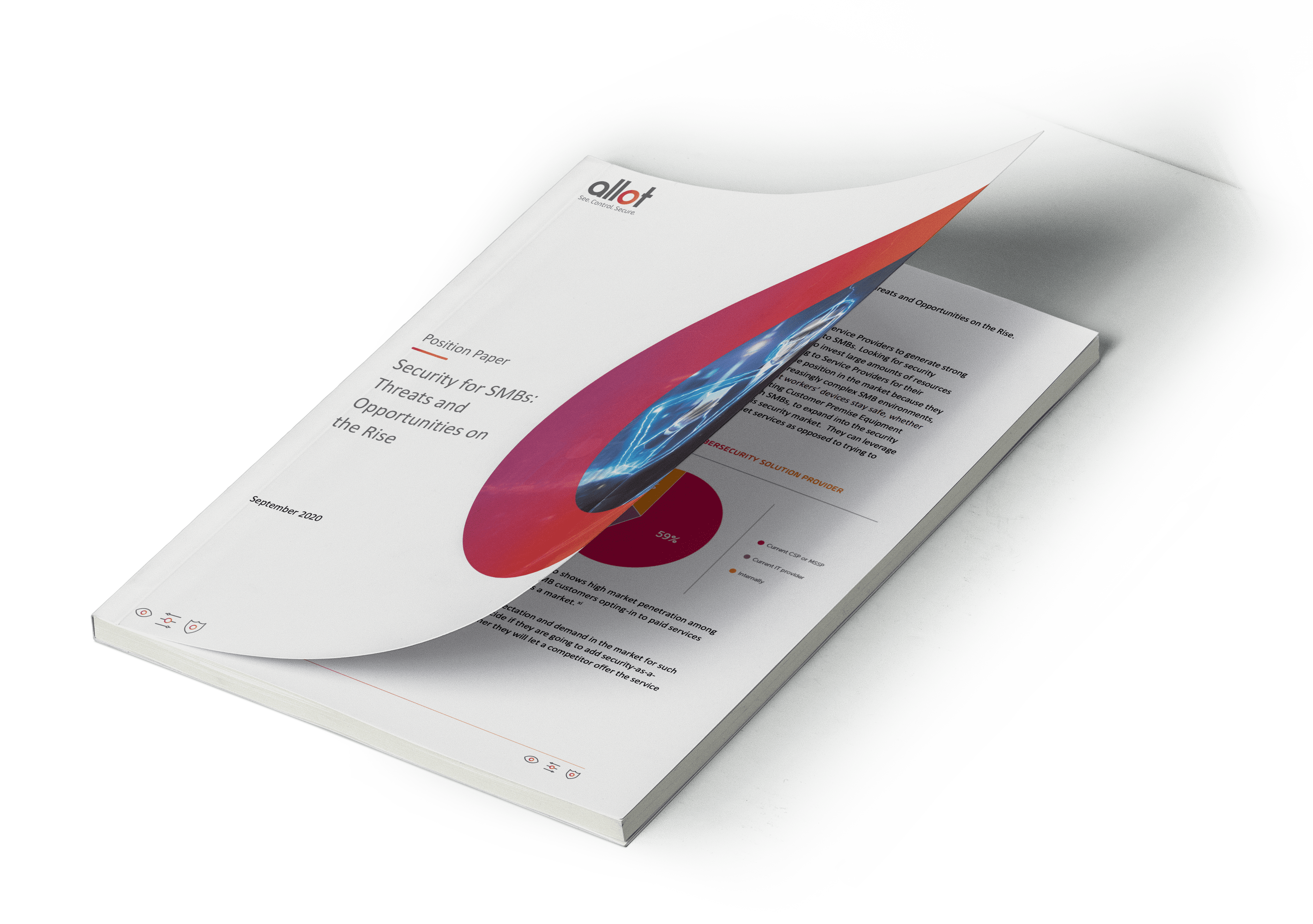 Get your e-book »