Search All Open Positions
Join Us at Allot
Secure
Hod Hasharon , Israel ● Full time
Python Tech Lead
Job Description :
Who we are:
Allot is an established industry leader in network intelligence and security solutions for service providers and enterprises around the world.
We believe in giving our Tier-1 customers around the world real value by offering them cutting-edge solutions that make their networks smarter and their users more secure.
At Allot, you'll have the opportunity to develop professionally and personally in a dynamic environment with like-minded people who always go the extra mile to succeed.
What you'll do:
Help us build backend services and pipelines to support Allot's platform
Design and implement microservices in Python3.7+
Provide and receive constructive feedback from code reviews
Help us improve our architecture
Ensure our documentation successfully communicates API functionality
Continually improve the security and scalability of the platform
Champion good habits (development techniques, security, tech debt balance, TDD) within your team; improve engineering standards, tooling, and processes
Propose new methods and approaches to old solutions, helping to improve/develop standards
Requirements :
What you'll bring:
A software professional above 5 years of hands-on proven experience
Leading software engineers as team\technical leader
A strong Python developer with a proficient understanding of concurrency, performance, optimization, and implementation of algorithms in a production environment
Understand EDD approach
Understand microservices and docker architecture
Experienced with Flask and RESTful APIs
Understanding of NoSQL, preferably MongoDB
Understanding in SQL and RDBMS
Understanding of CI/CD, preferably Jenkins
Proficient with tools like Git
Love of cleanly and consistent code
Someone who comes up to speed quickly and enjoys diving in
Self-motivated with a passion for taking ownership of your work and delivering outcomes
Excellent communication skills in English (writing and speaking)
Show all jobs...
CONTACT SALES
Discover the best solutions for your organization
You're all set!
We look forward to meeting with you on Monday, June 28 @ 14:00 EST. The meeting details will be sent to your mail box in a few seconds.
For a deep dive into Allot's SMB solutions, we'd like to offer you a free copy of our position paper
Security for SMBs: Threats and Opportunities on the Rise.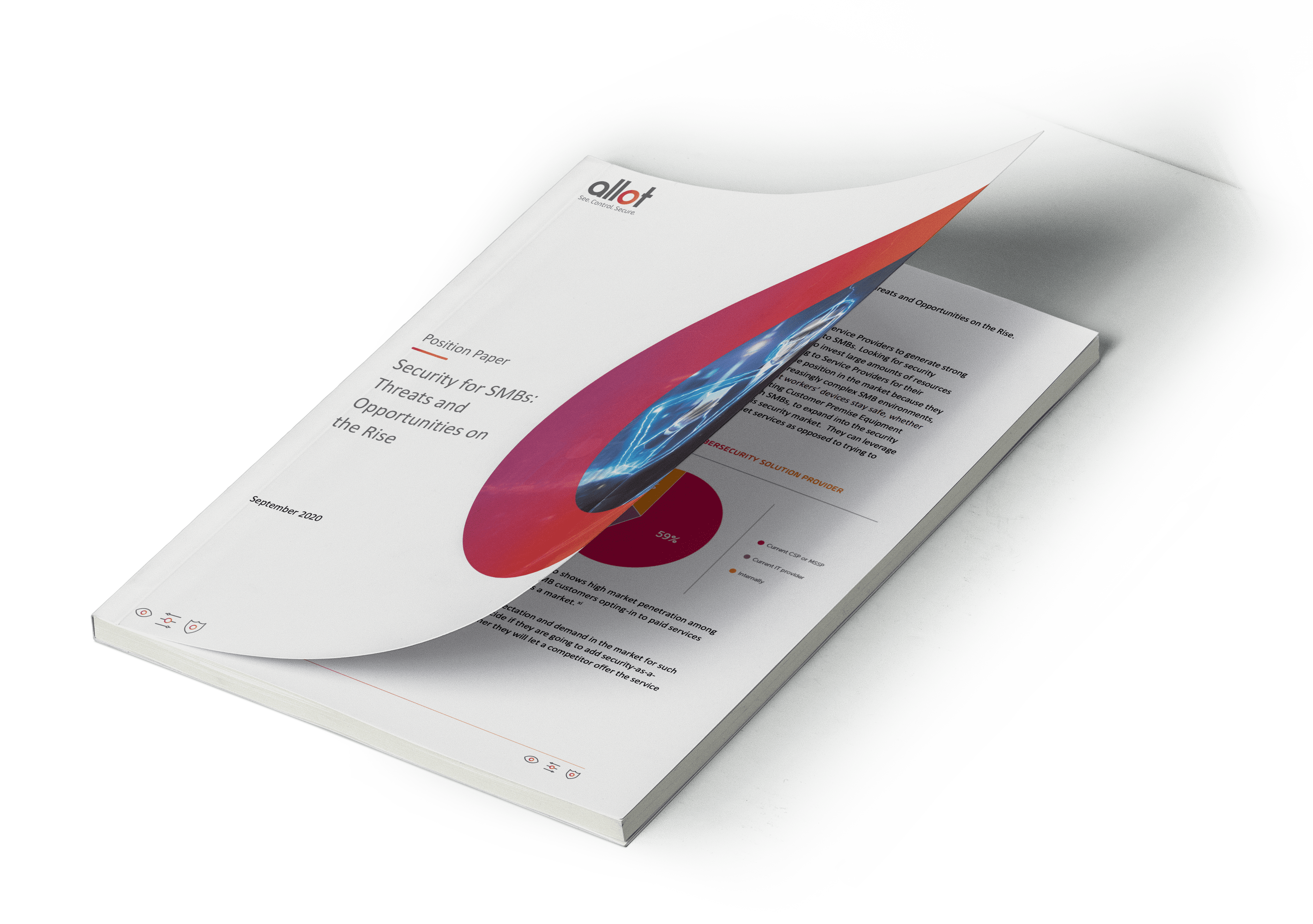 Get your e-book »