Search All Open Positions
Join Us at Allot
Secure
Madrid , Spain ● Full time
Director of Product Management
Job Description :
Who we are
Allot Ltd. (NASDAQ, TASE: ALLT) is a provider of leading innovative network intelligence and security solutions for service providers and enterprises worldwide, enhancing value to their customers.
We embrace an Agile way of working, priding ourselves on being fast, diverse and dynamic. We are real team players who are ready to go the extra mile to succeed.
We believe that anyone can make an impact and together our team spirit makes all the difference.
This is your opportunity to develop, professionally and personally.
What we're looking for
A Product Manager of a medium-sized and growing company with a global footprint.
What you'll do
The position includes direct responsibility for one of the company products and managerial responsibility for additional products thus we are looking both for hands-on and managerial skills
Driving the product, from long term vision and roadmap to execution
Managing the product lifecycle, versions' release, and related processes
Becoming the product's expert and source of knowledge and knowhow
Supporting the company's activities aimed at increasing product sales, enablement of presales, and marketing
Interacting with the company's customers to define product requirements, increase product adoption and customer satisfaction
Maintaining an updated view of the competitive landscape, as well as the relevant technology trends and developments
Advancing the integration of your product within the company's solutions' offering
Acting as Product Owner for R&D SCRUM team
Covering all Outbound aspects of the PM work
Analysis and market research of competitors and products in the Security field
Requirements :
What you should have
Have 5+ years of previous product management experience from a Telecommunication/cyber-security/ Network company
Have the drive to push products under your responsibility to new highs
Be knowledgeable and experienced in the security space (B2B2C)
Prioritize and make decisions in changing agile environment
Have a B.Sc. degree in a relevant technology-related field or equivalent experience; MBA is a plus
Be fully proficient in English
Have great communication and presentation skills, be adept at teamwork, and owner of the specific product domain
Technical background and Technologies you should be knowledgeable on:
Network architecture and concepts knowledge - must
Cloud infrastructures (AWS, Azure) - must
K8S deployment architecture - must
Technical background in IP networking communication -nice to have
Experience with mobile applications development process - nice to have
Product Integration with CSP IT platforms (monitoring, provisioning, authentication) - must
Technical background with front end/backend development concept - must
Technical background with 3rd party open sources (Kafka, MongoDB, PostgreSQL, CasandraDB) - must
Experience with JIRA –nice to have
Experience with design tools - nice to have
Show all jobs...
CONTACT SALES
Discover the best solutions for your organization
You're all set!
We look forward to meeting with you on Monday, June 28 @ 14:00 EST. The meeting details will be sent to your mail box in a few seconds.
For a deep dive into Allot's SMB solutions, we'd like to offer you a free copy of our position paper
Security for SMBs: Threats and Opportunities on the Rise.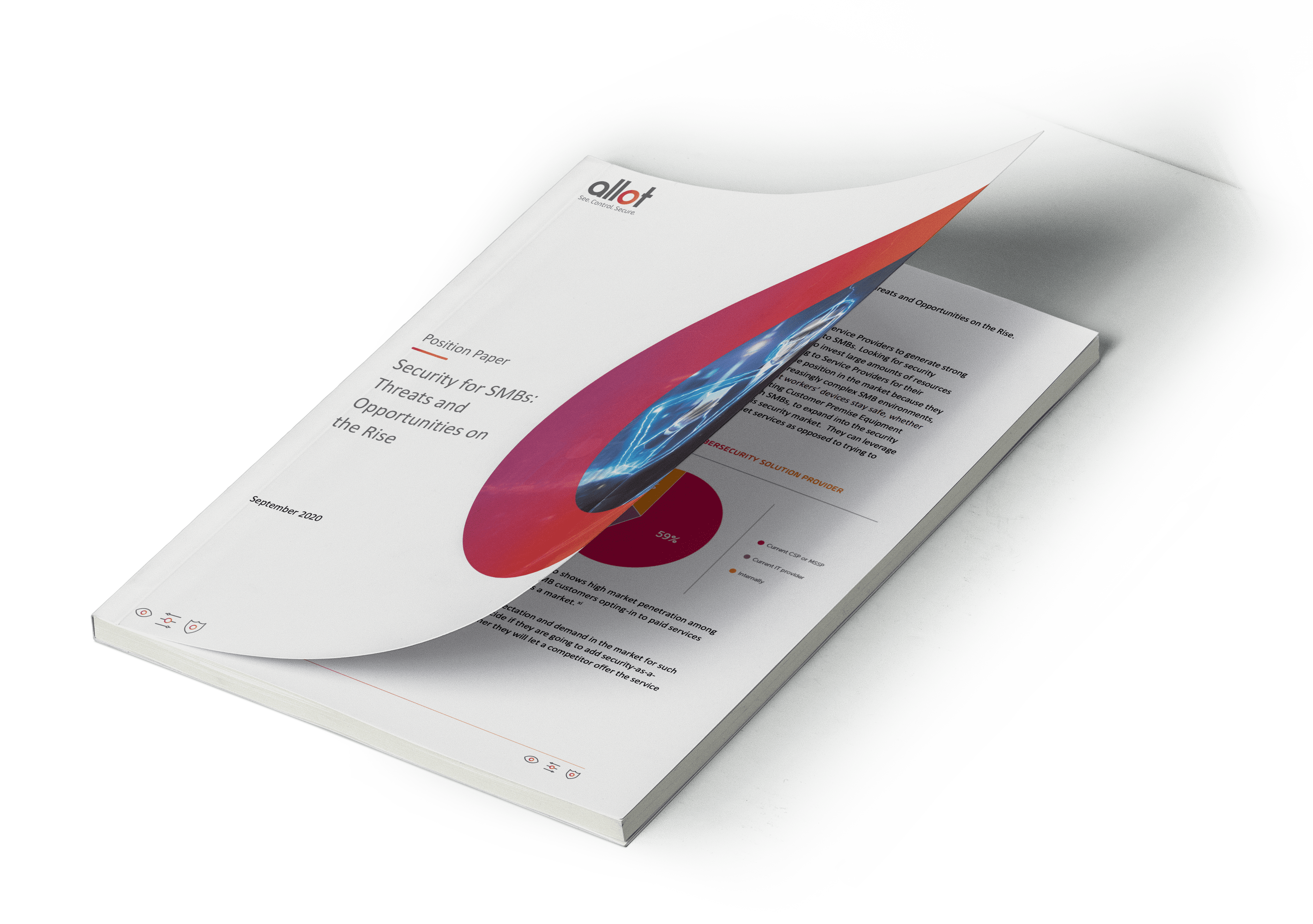 Get your e-book »