Search All Open Positions
Join Us at Allot
Sales
Central Europe, Remote , Czech Republic ● Full time
Security Sales Director CEE
Job Description :
Who we are:
Allot is an established industry leader in network intelligence and security solutions for service providers and enterprises around the world.
We believe in giving our Tier-1 customers around the world real value by offering them cutting-edge solutions that make their networks smarter and their users more secure.
At Allot, you'll have the opportunity to develop professionally and personally in a dynamic environment with like-minded people who always go the extra mile to succeed.
What we're looking for:
An exceptional, highly motivated Security Sales Director with direct work experience in selling to Communication Service Providers (CSP) in the Central & Eastern Europe region.
The primary responsibilities of the Security Sales Director is to sign and develop new security partnerships with CSPs, in order to monetize security services to Consumers and SMEs.
This is an individual contributor role, reporting directly to our VP EMEA Security Sales. The Sales Director will be responsible for a large region in EMEA (several countries) and will be working in a matrix mode with multiple functions to support and contribute to his success: Marketing, Pre-sales, Finance, Product management, Professional Services.
Requirements :
Strong background in engaging with EMEA/CEE CSP organization, specifically selling-through and to telcos to their consumer and SMB customer base
Proven experience in generating new business with CSPs
Working with consumer marketing and value-added service teams
Expertise in facilitating and developing VAS; experience with cybersecurity would be a huge plus
Experience with Opex business model/revenue share
Consistent, year on year, high performance track record
Excellent English verbal, written and presentation skills
Show all jobs...
CONTACT SALES
Discover the best solutions for your organization
You're all set!
We look forward to meeting with you on Monday, June 28 @ 14:00 EST. The meeting details will be sent to your mail box in a few seconds.
For a deep dive into Allot's SMB solutions, we'd like to offer you a free copy of our position paper
Security for SMBs: Threats and Opportunities on the Rise.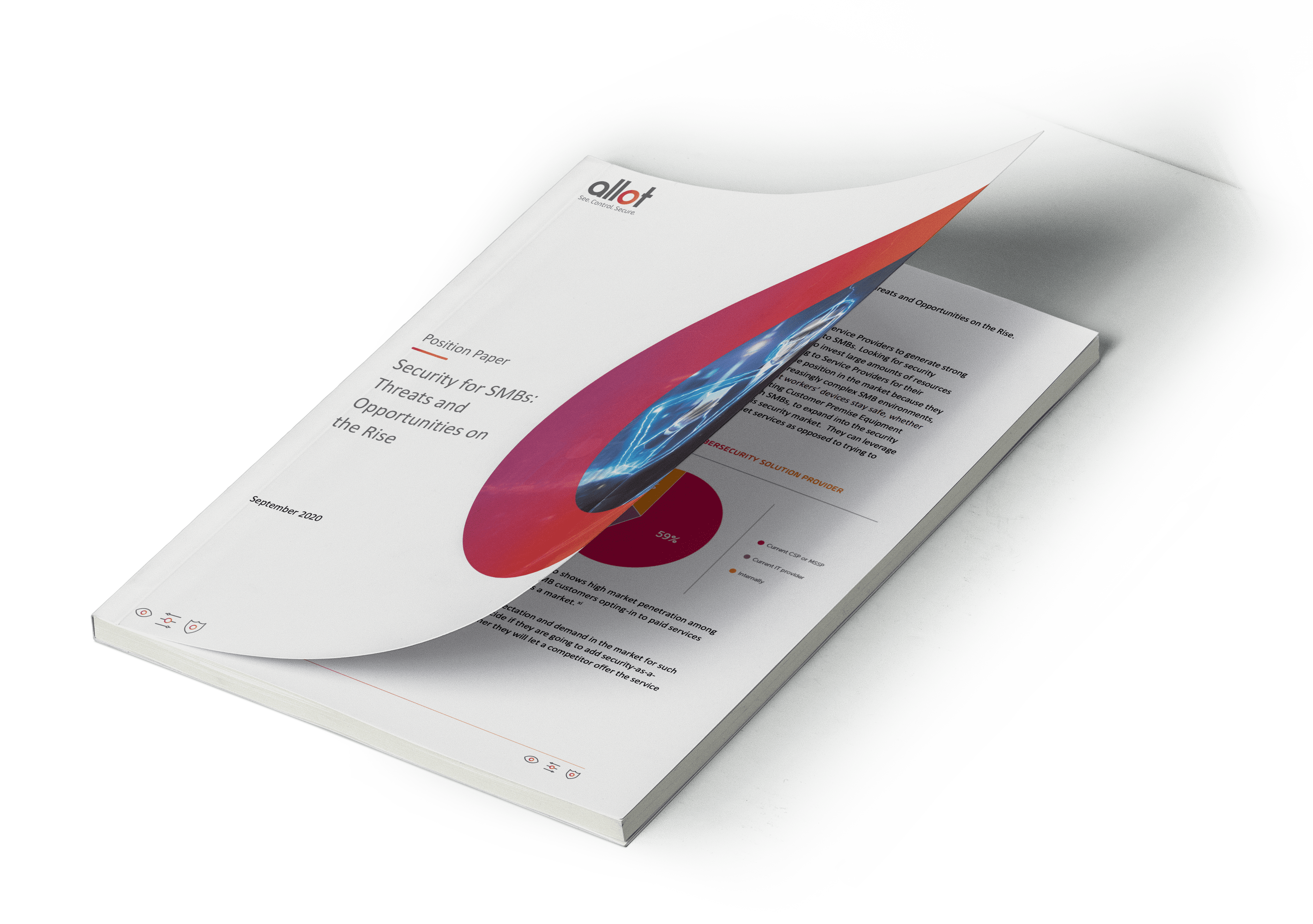 Get your e-book »