Search All Open Positions
Join Us at Allot
Sales
Hod Hasharon , Israel ● Full time
Account Manager Enterprise - Israel, Turkey & Eastern Europe
Job Description :
Who we are:
Allot is an established industry leader in network intelligence and security solutions for telecommunications service providers and enterprises around the world.
We believe in giving our Tier-1 customers real value by offering them cutting-edge solutions that make their networks smarter and their users more secure.
At Allot, you'll have the opportunity to develop professionally and personally in a dynamic environment with like-minded people who always go the extra mile to succeed.
What we're looking for:
This is an Intermediate sales role where we are seeking a highly motivated Enterprise Sales Manager with experience selling network devices for enterprise data centers, ideally network management, traffic shaping and SD-WAN.
The Sales Manager will join our Enterprise sales team and proactively seek out new accounts in the public, education and financial sectors, as well as manage channel partners and system integrators.
This is an individual contributor role, reporting to the Director of Sales EMEA.
What you'll do:
Create & articulate compelling value propositions around the use of the Allot solutions
Prospect aggressively to develop new customers and business partners through networking, referrals, company lead generation and cold calling
Continuously develop an extensive set of relationships at C-level, VP and Director-levels across companies and across industry categories.
Meet or exceed sales goals each quarter.
Prepare deal overviews and contract summaries for key stakeholders.
Travel to existing and prospective customers with the purpose of sustaining and growing market share, promoting and selling Allot solutions
Forecast sales activity and revenue achievement while creating satisfied customers that can be referenced in future sales cycles
Manage forecast accuracy on a weekly/monthly/quarterly/annual basis
Work as a team-player in a global organization
Implement right sales methodology to increase the company product sales.
Provide the company with updated information regarding relevant market trends and the position of Allot in the market
Maintain competitive knowledge & focus
Requirements :
What you should have:
Experience selling networking/infrastructure solutions for a software/hardware company, ideally network management, traffic shaping and SD-WAN
Must have know-how of the Enterprise market, ideally in the following market segments: Government, Finance, Education, Technology/Manufacture and Hospitality
Prior experience breaking into new accounts – "hunter" mentality
Proven track record of successful sales and exceeding revenue goals
Experience with technological solutions and consultative sales approach
Strong, effective presentation and communication skills, both verbal and written
Team player with excellent interpersonal skills and strong work ethic
Self-starter, mature and committed individual, with strong connections in their region
Bachelors' degree required
Show all jobs...
CONTACT SALES
Discover the best solutions for your organization
You're all set!
We look forward to meeting with you on Monday, June 28 @ 14:00 EST. The meeting details will be sent to your mail box in a few seconds.
For a deep dive into Allot's SMB solutions, we'd like to offer you a free copy of our position paper
Security for SMBs: Threats and Opportunities on the Rise.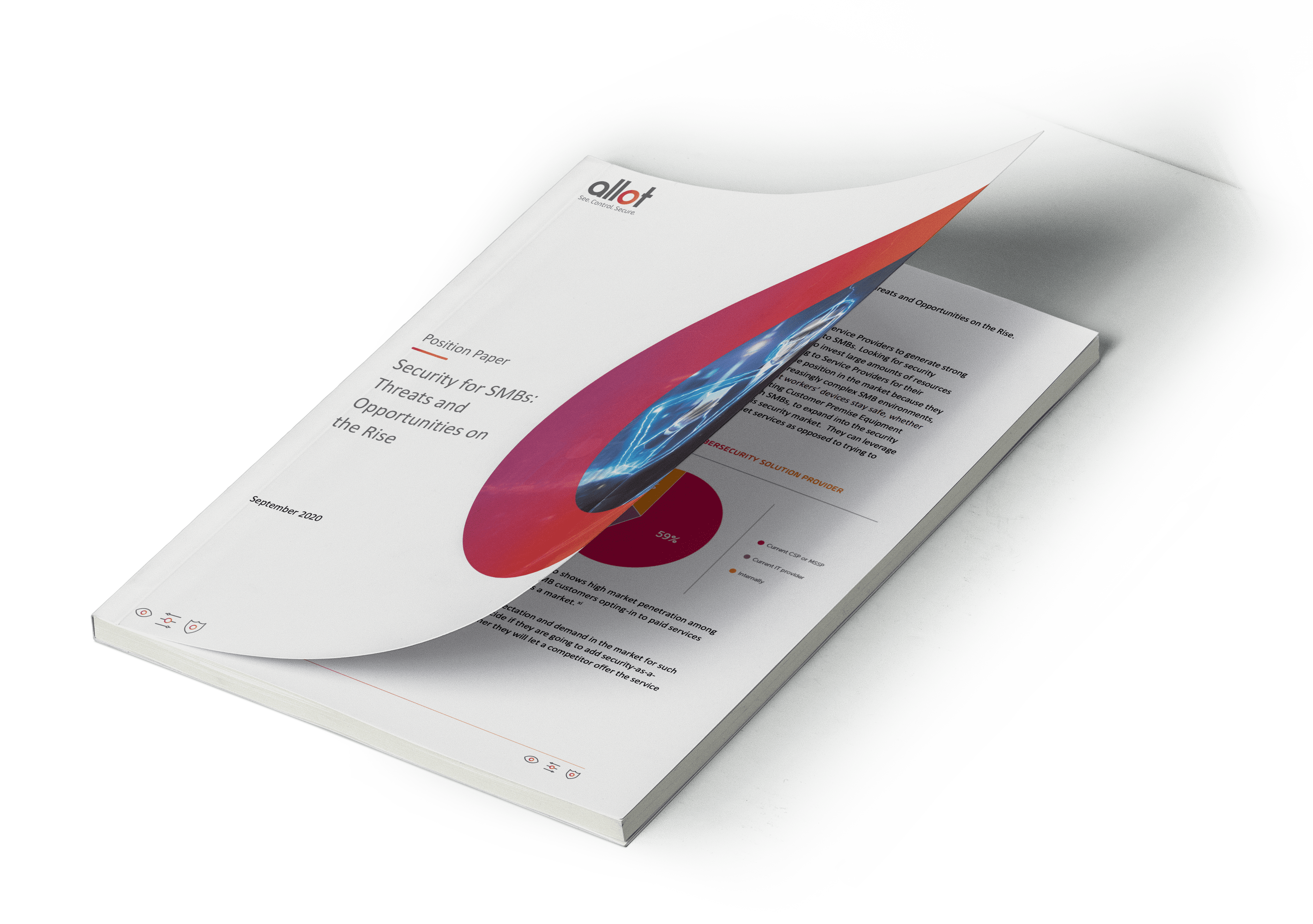 Get your e-book »